We accelerate the execution of your company's sales and customer service strategy
If you lead a team of sales representatives, merchandisers, promoters, or service specialists, we have a complete solution for you.

eLeader Mobile Visit
---
eLeader Mobile Visit is a solution for companies with field employees (e.g. salespeople, merchandisers, service specialists, promoters).
Our system reflects the processes conducted outside the office utilizing such tools as Perfect Store, Automatic shelf analysis, Business Intelligence and Retail Activity Optimization. The system enhances efficiency and facilitates decision-making by the managers.
This is why our solutions are chosen by global leaders who function subject to diverse requirements on a number of markets.
Functionalities of many systems in one solution
---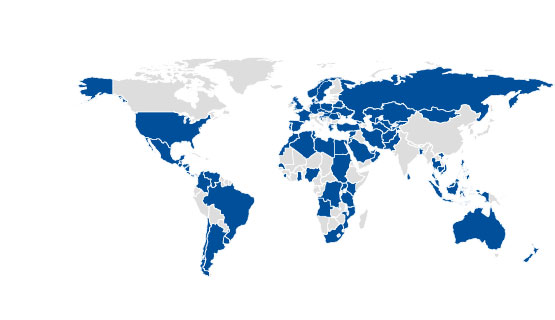 Trustworthy solution
---
eLeader Mobile Visit is the first in the world SFA/FFM system created for smartphones, implemented in 80 countries and 19 language versions so far. The diversity of the projects continuously developed with clients from different continents allows us to regard them as the most mature projects on the market.
eLeader Mobile Visit in Gartner reports
---
According to Gartner, an analytics company, a vast increase in the number of users of the application, combined with its strong usability, justify the claim to see eLeader Mobile Visit as aspiring to be among the top five solutions in the world.
Our clients about us
---
Taking care of implementations of sales force automation systems in different parts of the world, I am particularly sensitive to the nuances that distinguish the style of work of sales teams in different countries. eLeader Mobile Visit impresses with its functional potential, flexibillity and quick adaptation of the configuration to the specific nature of a given market. eLeader is a truly global player.
Deniss Korotkevics
Junior Commercial Development Manager
NUTRICIA
eLeader provides a global solution with a local approach. We are operating on different continents, so we've needed a solution that can provide opportunity to combine both Lenovo global approach with the individual needs of every market. Thanks to eLeader our business is constantly growing.
Mao Bailin
Director
Channel & Retail Development
Lenovo MBG APAC
With the adoption of eLeader, sales management became seamless and we had better insight in the daily activities of the team. It is quite detailed and easy to use.
Gbenga Adegboye
Alcatel
Introducing even great changes did not entail the need of programming.
Configuration can be modelled "on the go", which, despite frequent changes in our company, assumes no additional costs connected with the maintenance of the solution.
Maciej Klimek
HJ Heinz
Thanks to eLeader Shelf Recognition we can manage sales processes much more effectively because we receive high quality data from the field. Work with the application helps us increase the level of key parameters for us: availability of products and the quality of their in-store exposure.
Sebastian Zapała
NUTRICIA (DANONE)
We have chosen eLeader because we knew, that it's solutions work for variety of industries in different markets. Efficient deployment and configuration confirmed our assumptions. Right now we are collaborating with eLeader in the middle east and we believe that the solution can benefit our global sales and marketing teams.
Hamed Pardakhtchi
Trade Marketing Development Executive
British American Tobacco Pars
A major asset of eLeader Mobile Visit is the comfort and fast pace of implementation of new functionalities which are currently needed. Owing to the smartly designed structure and flexibility of the application, we can collect more data from the field and make better use of it to make our business grow.
Mehmet Başeğmez
Marketing Director
BRITA Turkey
The mileage of our sales representatives' cars has decreased by 10-12 percent, since eLeader software calculates the most economical route, compares it to the actual distance covered by our employee and optimizes route planning.
Paweł Wrona
Midas
eLeader has revolutionized our Field Banking Operations, which are the core of our Financial Institution Model.
Josephine Nwachukwu
Executive Director
LAPO Microfinance Bank
eLeader proved to be the best system that is easily adapted to all requirements of the nature of mobile work.

The pilot program, during which employees had the opportunity to work on a fully configured solution, made it possible to test the capabilities of the system in real business conditions.
Adam Oleszkiewicz
Zelmer
We apply Zott quality policy both to our products and sales methods. We have chosen the eLeader Mobile Visit system because it obtains precise data and delivers reports which streamline business decision processes.
Piotr Sibielak
Zott Polska
We took a daring decision to cooperate with a foreign SFA system provider and we are giving it thumbs up. Thanks to eLeader Mobile Visit our network of mobile workers have access to a world-class solution that works more efficiently, and the warehouse inventory data is considerably more precise and accessible. This means savings and accelerated sales volume development.
Adil El Azzouzi
Tria Group
eLeader provided us with a system and support that we exactly needed. The deployment was swift and did not cause any disturbances.
Artur Ryczkowski
Sales Director
TEEKANNE-Polska Sp. z o.o.
We have placed our trust in eLeader because of their vast experience in the field force automation systems. Thanks to a committed partner, all the implementation and maintenance related matters are running very smoothly.
Youssef Alouani
Sales and Marketing Manager
ASMENT TEMARA
eLeader Mobile Visit enhances the work of our field force, enabling us to manage the quality of this work.
Dorota Kamaszyn
Analytics, Administration & Projects Management Manager
Tchibo Coffee Service Poland
In Stock Pralim, we set new market trends, implementing innovative solutions which facilitate our everyday work and benefit the company. eLeader Mobile Visit has not only flexibly fitted into our requirements, providing comfort and stability of work, but it has also contributed to a more conscious sales policy, smartly handling special offers and returns. The implementation was an excellent idea.
Aziz Boufars
General Manager
Stock Pralim
Functionalities
---
Perfect Store & KPI

Mobile charts and KPIs

Interactive dashboards

Planograms and merchandising standards

Files and multimedia

Analysis on maps

Budgets

Gamification & Bonus/Malus systems

Promo activities wizards

Promotions and discount levels

Data cleansing

Reports and analysis wizards

Products galeries

Product research

Automatic route optimization

Loyalty programs

Preselling and Vanselling

Surveys

Equipment record

Central promotions

Fraud detection on maps

Distributor integration

Business Intelligence

Document flow

Agreements record and monitoring

Office 365 integration

Quantitative and qualitative targets

Internal system integration

POS and Contact management

Barcode scanner

Work calendars and replacements

Costs record

Data analysis

Visit planning

Orders including debt management

Fleet management
Superior user interface
---
Even the most advanced functions must be user-friendly. This is why we design custom developed interface solutions for every platform and type of device.
Our excellent attitude has been recognized by Gartner, who described our application interfaces as excellent and standing out compared to solutions from other providers.
*Source: Gartner, "Market Guide for Retail Execution and Monitoring Solutions for the Consumer Goods Industry", 2015.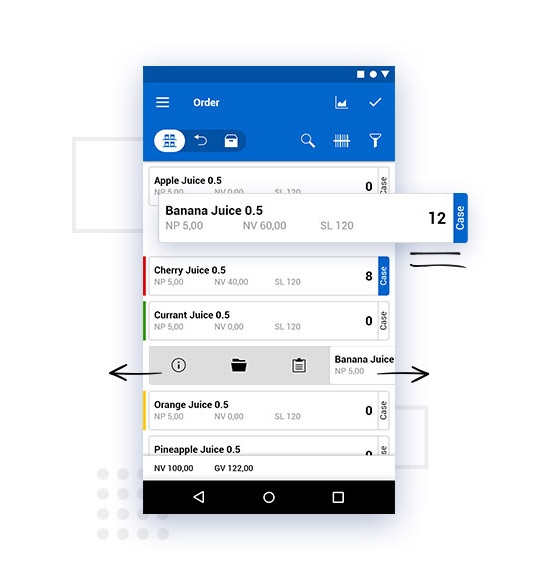 The mobile assistant for your on-the-go workforce
---
Plan
Plan the work of your field staff from scheduling visits to prioritizing tasks and to facilitating customer interactions.
Track
Track and update sellers on the most current discounts and promotions based on real-time product data.
Equip
Equip merchandisers with convenient tools to manage shelf displays.
Help
Help auditors collect critical information for immediate processing.
Support
Support trainers with easily accessible training materials and surveys.
Flexibillity above all
---
Solution tailored to needs
As part of the implementation, we always model the system from scratch, painstakingly reflecting all the clients' individual business processes even in 3 weeks.
Constant development after implementation
We respond immediately to the changes in your business environment. The architecture of the system oriented toward modelling changes enables unaided modification of the visit plan within just a few seconds. Our business model also covers handling all your tasks by eLeader teams – as part of free-of-charge subscription packages.
What do you gain?
Swift and seamless implementation – for years we have maintained a punctuality record of 100%.

System fully reflecting the reality of your organization.

Immediate adaptation of the configuration without extra costs, budgeting or delays.
Free pilot deployment
---
Free pilot
Acknowledge the quality of our solution and prompt change introduction even before making the investment.
Fill in the form and invest without risk!