World class SFA system with new android skin
---
eLeader Mobile Visit helps you to support your field forces by giving them an easy and user friendly tool that helps them to gather all necessary information from the field and let you focus on decision making processes. Keep it smart and use the latest technologies to manage more efficiently your field activities. Now it serves even better with it's new elegant layout for Android OS. The system is to work you're to manage!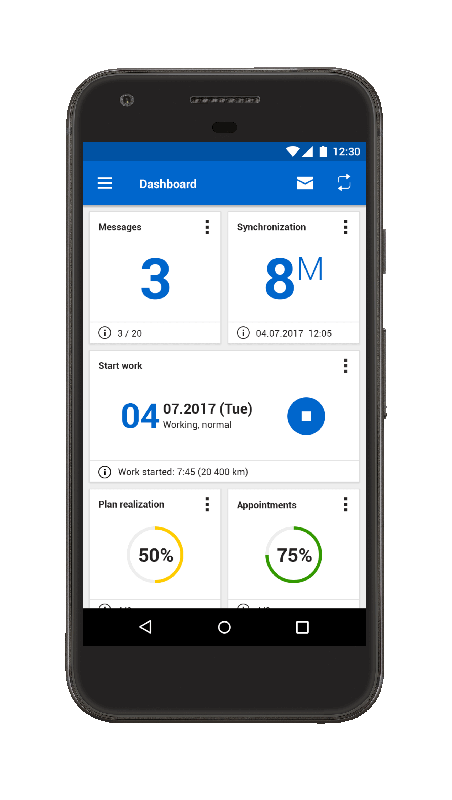 Mobilize your business with world class technology
---
eLeader group is one of the world's top innovators in the mobile software industry that provides world class business solutions for companies from different industries (FMCG, manufacturers, retailers, field marketing agencies, financial institutions, healthcare companies).
eLeader Mobile Visit is a mobile solution for companies with large teams of employees working outside the office. It allows unification of all business processes with using smartphones and tablets alone. No paper forms, no palmtops, no spreadsheets.
eLeader Mobile Visit was the world's first mobile FFM/SFA/RSE solution for smartphones, now used in more than 80 countries worldwide and considered to be the most mature and advanced on the market.
Rapid business process modeling
---
Rather than being developed from scratch, the system is modeled around your business processes via configuration of already available modules.
This allows changes to be made on a day-to-day basis without programming, keeping TCO low. We give you a backend system to create your own tasks, make changes at any time without any related cost and manage all of the data and reports.
All your requirements implemented in pilot deployment. No risk of false promises. No risk of project failure. No risk of software shortcomings. No risk of choosing the wrong solution. No initial investment so…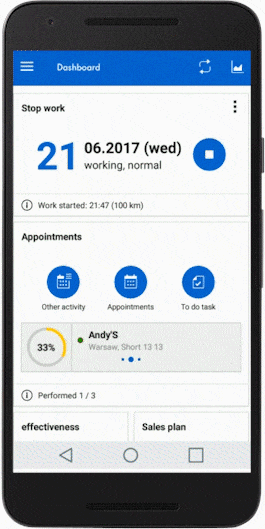 4 years on Moroccan market
---
eLeader's SFA / FFM / RSE solutions are helping managers and field workers in the Kingdom of Morocco since 2013. Four years means huge experience and understanding of the market. We serve the most ambitious and dynamically growing companies that are looking for quality and latest technologies.
Marwen Mosbah
International Sales Manager
ELEADER
We took a daring decision to cooperate with a foreign SFA system provider and we are giving it thumbs up. Thanks to eLeader Mobile Visit our network of mobile workers have access to a world-class solution that works more efficiently, and the warehouse inventory data is considerably more precise and accessible. This means savings and accelerated sales volume development.
Adil El Azzouzi
IT Director
TRIA GROUP
We have placed our trust in eLeader because of their vast experience in the field force automation systems. Thanks to a committed partner, all the implementation and maintenance related matters are running very smoothly.
Youssef Alouani
Sales and Marketing Manager
ASMENT TEMARA
They have trusted us
---
Global experience and hundreds of completed projects ensure the success of implementation in your organization.
Become one of many satisfied clients!

Contact Authorized Partner
---
Une enterprise de conseil et d'integration de systemes informatiques avec une equipe compose principalement de professionels aliant connaissances et experience pour gerer de maniere otimale toutes les solutions eLeader et proposer les meilleures solutions sur le marche.
Idmaj Technologie | Technopark 3eme etage, B n326 | Casablanca 20150, Morocco | www.idmaj.ma