eLeader Shelf Recognition
AI
In the battle for the shelf it is all about speed, data quality and… a perfect display.
Discover the way to see, know and sell more.
Dispatch artificial intelligence into the field and see your sales strategy execution gets its wings.
The idea becomes reality
---
eLeader Shelf Recognition AI is a solution enabling field representatives to report on product shelf display and price based on intelligent image recognition. The results arrive within the time of the visit. This is why the representative can react instantly using reliable data.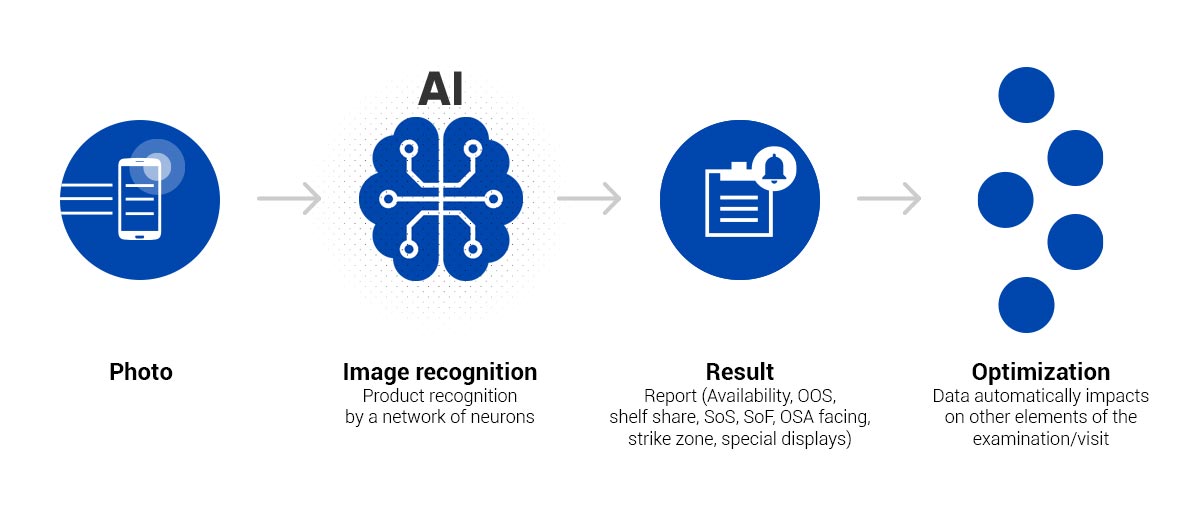 Do you know how much winning at the shelf boosts your sales?
---
- of sensory experiences are provided through vision
- of purchase decisions are made in front of a shelf
- even by this much correct exposition can increase sales
The power of artificial intelligence
---
Product and price recognition of the highest quality is now possible thanks to our deep neural network that we are training to become a tireless store shelf analyst, active day and night, 365 days a year.
Owing to the application of the dispersed training method, the system improves quickly and the implementation is performed instantly. Unbeatable functionality
---
The functionality of eLeader Shelf Recognition AI can be smoothly expanded by any processes used in the field (surveys, promotion audits, route planning, training, perfect store). You need to know that at your fingertips, you have the most functional tool of its class available on Android and iOS mobile platforms.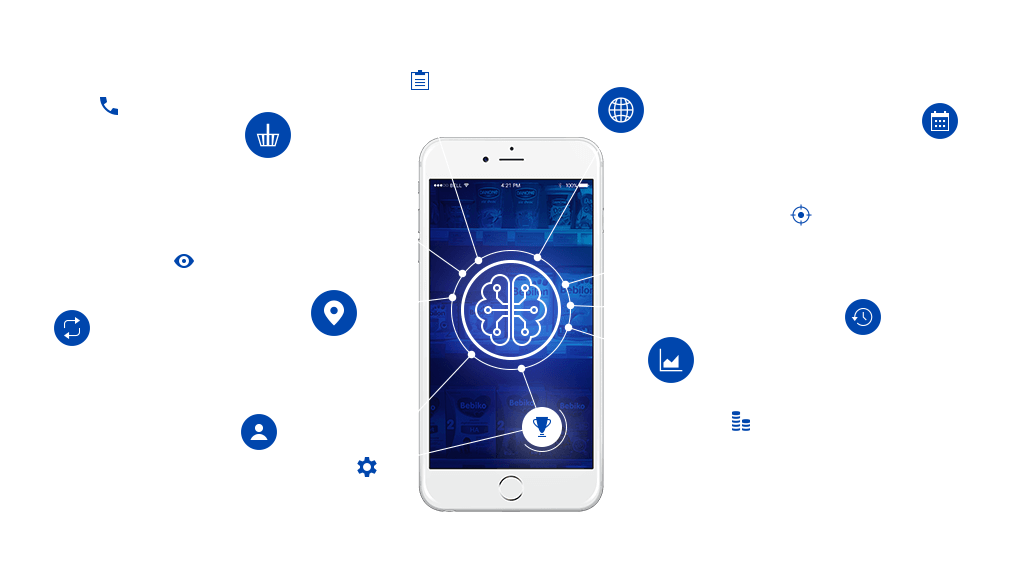 Complete shelf analysis during the same visit.
---
Shortages will appear in the order form automatically, and the system will request the reasons for the absence of the products.
An immediate check of the fulfilment of a shelf contract means a better position for negotiations with the store manager.
The swiftly calculated share of shelf is an opportunity for a competent discussion with the store manager on how to increase this parameter.
A new type of a photo report
---
In order to make the work with eLeader Shelf Recognition AI fast and to gain knowledge from it on how products are recognized and what store displays actually look like, we have created a special interactive report for each analyzed product, rack and store. This multi-layer report combines figures, indicators and codes with a visual presentation of the situation in a given store with the accuracy of one product face. It is available both in central and mobile applications.
Automatic store shelf audit at DANONE Poland
---
Among the companies that decided to make a quantum leap towards real reporting and obtaining information valuable to the sales force from the market was DANONE, which decided to support human senses with artificial intelligence closed in a mobile application.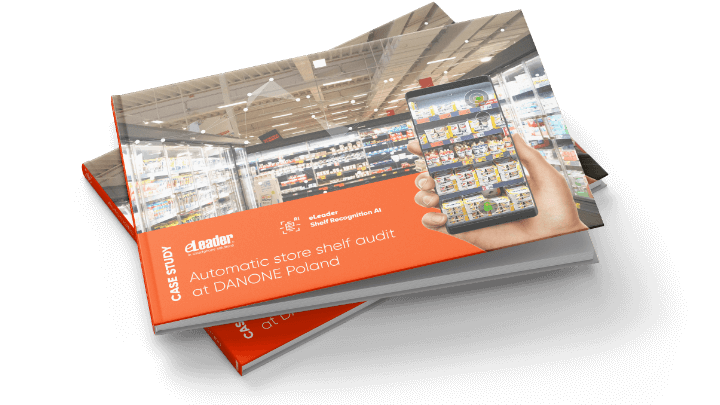 Over 10x faster merchandising, over 30x fewer errors and frauds
---
Manual facing audit
20 minutes
The average time of inputting product data from the device's keyboard.
As much as 70-90% of data is simulated and fraudulent
vs
vs
Shelf Recognition AI
90 seconds
The average time needed to take photos of the display.
Only 1-3% unrecognized product faces
Opinions about Shelf Recognition AI
---
Ensuring free access to our products for consumers calls for constant analysis and maintaining high display standards in stores. The technology for image recognition in the application eLeader Shelf Recognition AI provides effective support to our sales representatives in these activities. Equipped with this technology, they report an unparalleled amount of detailed information about store shelves compared to the period before the system was implemented.


Paweł Kaczyński
Business Systems Analyst
DANONE
Thanks to eLeader Shelf Recognition, we can manage sales processes much more effectively because we receive high quality data from the field. Work with the application helps us increase the level of key parameters for us: availability of products and the quality of their in-store exposure.


Sebastian Zapała
Regional Operations Manager Sales
NUTRICIA Poland
Implementation of eLeader Shelf Recognition caused some user resistance in 2014. Today, former skeptics admit that working with the app gives significant benefits in a shelf competition and optimizes visit reporting.

Rafał Prus
Sales Support Manager
GTM Department
Maspex
What will you love most about eLeader Shelf Recognition AI?
---
Results of a display analysis performed during one visit
Lower costs thanks to artificial intelligence
Reliable and manipulation-resistant data, shorter time of a display analysis
More business decisions during a visit (initiating orders, contracts, promotion audit etc.)
Swift implementation
The most extensive functionality in the world
No more inspection visits of supervisors
Artificial intelligence consumes the computing power of machines, but saves human energy
eLeader Shelf Recognition provides input data useful in many areas, giving the strategy execution combo an increased power
---
Perfect Store
The implementation of the adopted display strategy is gaining momentum due to online verification of product display. KPI – so far calculated based on manual audits – can now be measured automatically and corrected during the same visit.

MORE ABOUT PERFECT STORE
RAO (Retail Activity Optimization)
Display improvement actions, orders for out-of-stocks or contextual surveys can automatically supplement the visit plan right after the shelf has been photographed. The information from the photos on product availability, shelf share or facing contributes to a "ranking" of shops, which determines the frequency and scenarios of visits through automatic planning.
Business Intelligence
The BI system will happily capture all the parameters of your display, so that the information about the execution of your display strategy is up to date and available on demand. eLeader Shelf Recognition is keen to provide such data.

FREE E-BOOK
Category Management
Verification and building planograms have never been so simple, but the true power of eLeader Shelf Recognition AI is revealed in combination with eLeader mCatMan, which allows relevant Category Management at the level of any store, even… a corner store.
Live demo
---
Feel the power of data flowing from eLeader Shelf Recognition AI
Fill in the form – we will provide you with all the details and show how you can benefit from this solution!