Dynamic segmentation of the customers
---
If you manage sales and lead a team of sales representatives, you probably had various questions in your mind. Am I missing sales opportunities? Which stores should traders be directed to? Is the division of the market we introduced still valid? You will answer them easier if customers' segmentation appears in the puzzle called sales strategy. It's even easier if you support segmentation in sales with automation.
Segmentation of customers, products, employees and sales analytics
Customer and data segmentation is the key to efficiency, both for managers and sales representatives. As an intellectual competence, segmentation / categorization accompanies us in everyday life. The ability to do so is formed at an early stage of development. It proves the intelligence of young children. They learn to create collections of objects based on features that are common to them (the collection of plants in the sweat of their brow is divided into vegetables and fruits, and the latter into apples and pears, and so on). Why is it so important? Because ordering the world allows us to draw conclusions about it, make decisions and act.
Let's return from this preschool idyll to professional ground. Regardless of whether you are researching stores, the effectiveness of salespeople, an area or a product category – you need to segment them appropriately. The division into channels, regions, surfaces and industries is the basis – agreed. BUT IT IS NOT ENOUGH to talk about modern management and customer segmentation. Why?
Because you can't and don't have to sell everything to everyone.
Your business requires a special approach – the market can be divided into segments according to criteria that are of real importance. Only in this way will you open the way to personalized sales. Moreover, the updating of these segments can be automated.
Sales segmentation in the field
Segmentation in sales allows us to isolate such precisely outlined sets. For example, these would be: outlets that may be more likely to order items for young children, employees who can be entrusted with key customers or products that need to be organised for promotion. These elementary grouping procedures allow for better management of resources.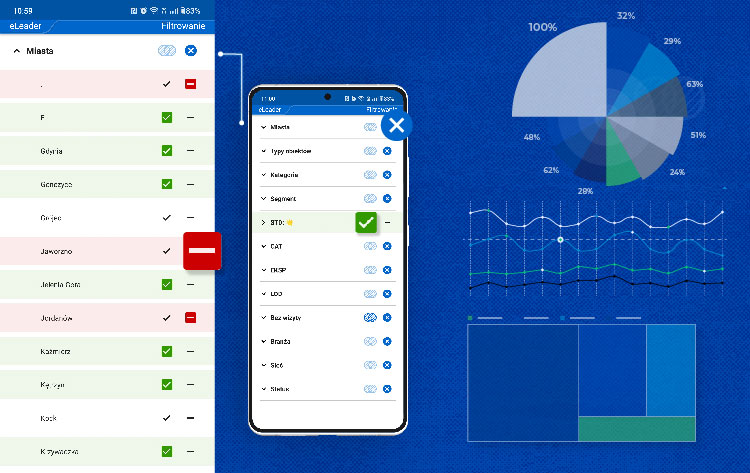 Once you have grouped your resources according to valuable criteria, it is time to think about how many of these activities can be automated. In this case, we are talking about assigning objects to segments based on general conditions (triggers). The automation and optimisation mechanisms in the SFA eLeader Mobile Visit system allow the unattended reassignment of, for example, a shop, user or product to a specific group. This makes automatic changes possible, e.g:
routes
trade visit scenarios
promotion
required order quantity
available POS materials
required standards and KPIs
terms and conditions of loyalty programs
bonuses of sales representatives
system alerts and notifications
Dynamic segmentation of the customers: Business Events (Automation Triggers)
We mentioned automation triggers above. These are events in the outside world reported by employees. This group also includes changes in IT systems that cause a given store, product or representative to change its assignment to a segment. Examples of scenarios can be found later in the text. Changes in segment assignments can take place on the basis of changes in parameters, which we can divide by source:
Recalculated dynamically in the system (e.g. order amount, price correctness, perfect store score, average working time).
Resulting from changes in shop or product parameters by the application user (e.g. number of checkout counters, shop area, POS potential, environment).
Derived from integration with company systems (e.g. data about days off, orders from distributors, stock levels, complaints).
Derived from external sources (e.g. traffic data, weather information).
Automatic segmentation of the customer – business scenarios
The possibilities offered by the SFA system in the area of dynamic customer segmentation and other resources are a framework that should be supplemented with your own rules and incorporated into business processes. Below you will find some examples of segmentations. They will help you to get away from poring over the sheets, and focus on making the best use of the regularities found in customer relations:
With regular use of the Retail Portal platform, the shop will receive points in the loyalty programme. These points will give it membership in the 'Premium' segment and access to better trading conditions.
Qualifying min. 80% of their customers into the TOP segment moves the salesman into the employee segment, with access to better company cars or higher promotional budgets.
On the basis of the Perfect Store result, the shop will be placed in the TOP segment, for which exclusive quality promotions and bonuses are available.
Based on the average quarterly order volume, the shop will receive access to a higher discount or one more merchant visit per planning cycle.
If a product group reaches the required sales threshold in a given month, it will be assigned a more favourable margin until sales fall below the threshold and the margin returns to the starting level.
How do you gain from automated sales segmentation?
Segmentation of customers and other 'participants' in the sales strategy is useful in customer acquisition processes, sales qualification, relationship maintenance, promotional campaigns, planning of last-minute sales visits, building the Perfect Store strategy or in budgeting. Dynamic segmentation in the SFA / CRM system streamlines the work of the manager in the office and the field implementer:
Scheduling the work of representatives is less time-consuming and does not require manual control by managers.
Users of the application for traders receive better tailored information needed for work (we reduce information noise).
Work is completed faster – no need to wait for manual reassignments.
Bonuses are automatic and therefore more objective.
Sales processes will reflect the market reality better.
We can create more complex working conditions without fear of overloading representatives with demands.
The right time and place to take sales actions is not a theoretical concept, but a practical key to finding sales opportunities in the market. Automation of sales segmentation is one of the many areas that can and should be automated to make the implementation of the company's strategy more effective and more resistant to market turmoil. Combined with a flexible mobile application that ensures proper planning and distribution of tasks in the field, it can provide a competitive advantage on the market.