DANONE Romania implements the eLeader system (CASE STUDY)
---
It is nice to be an export good, especially when the exporter is such a renowned and world-famous FMCG brand as DANONE. Based on the positive experience of using the system in Poland, the managers responsible for the Romanian market have replaced the systems for representatives used so far with one complete eLeader Mobile Visit application.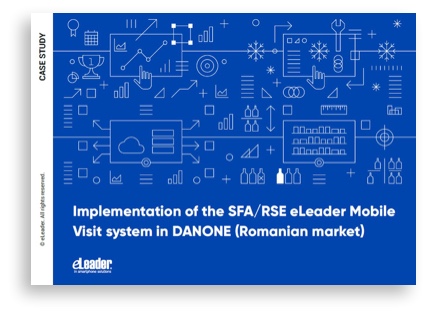 ORDER CASE STUDY
Together with DANONE, we prepared a case study, from which you will learn how we combined a carefully conceived fieldwork concept with our SFA (Sales Force Automation) tool to enhance sales effectiveness, improve equipment management prepare data as the basis for easier understanding of objectives and better decisions.
During the implementation of eLeader's system, I emphasized the precise design of processes and efficient flow of related data. eLeader displayed a full understanding of our requirements and proposed a system configured exactly to meet our needs. As a result, I know that at every stage of our strategy execution we are provided with reliable and up-to-date data.

Dariusz Radzimirski
Business Systems Manager – Topline Sales
DANONE
---

DANONE is a leader in the creation of tasty and wholesome food products important for an adequate diet and meeting nutritional needs. The portfolio of the DANONE group includes: dairy and plant products, water, soft drinks and specialized nutrition products, i.e. food for infants and young children, as well as medical nutrition for the sick.

eLeader ranks among the leading suppliers of Retail Store Execution solutions supporting the implementation of a sales strategy in the field. The continuously developed SFA/FFM mobile systems with artificial intelligence improving e.g. visual merchandising are recognized by global analytics companies (e.g. Gartner, POI) and have been implemented by international corporations in over 80 countries. The company is the foundation of eLeader Group, which also provides mobile banking systems (Finanteq) and solutions automating the development of business applications (Productive24).
More Customer stories
Read also: