Taking photos of your display? Great. Tell us what happens to them next?
---
Since the cameras have been in our phones for good, photos from stores are almost an inseparable element of a sales representative's visit to points of sale. In the SFA application for sales representatives, the results of actions taken at the point are reported.
Trader, merchandiser send photos of shelves, racks, POS. Depending on how large a team of field workers is delegated to verify the effectiveness of merchandising activities and own or agency sales, your discs receive from several hundred to even several thousand photos a month, which you need to verify to check whether the work was done correctly.
Tell me, what's next for all the photos you receive?
Exactly. But from the beginning.
It all starts with a visit
In order to ensure that the quality of the display remains at an even, high level, you send field representatives to the stores. Regardless of which sales channel we are talking about, the scope of tasks usually looks similar: your point of sale person or point of sale employee is to verify whether the display meets certain shelf standards, whether the product is available and arranged in accordance with the planogram. You account for the results of these activities. Sometimes an external auditor helps to summarise the field representatives' work and catches shortcomings and deficiencies in their work. However, this increases costs and lengthens the process unnecessarily. So you decide on a different form of evaluation.
You require that each visit and merchandising activities and shelf inspection undertaken during it, should be confirmed with appropriate photos. It's a good decision – it speeds up the reporting of activities and provides tangible evidence that the work of your field forces makes sense. Unfortunately, this solution is not without flaws.
In order to decide whether the standards have been met, the work done conscientiously and the goal achieved, the photos taken must be verified. You can use two methods to do it.
Cut corners
The first model is probably familiar to you. Despite the availability of all sorts of solutions that support the process of verifying images taken during visits, many manufacturers still use a manual method of verification. Photos, sent by employees or outlets (shops, pharmacies, etc.) as confirmation of conscientious fulfilment of contracts and display standards, go to the indicated location.
Here, the leader or coordinator of the field forces can randomly select photos for verification from the submitted photos and on their basis determine whether the task has been completed. The process has several serious loopholes: random verification causes the display in stores to vary – after all, you don't verify all photos. This also makes it possible to stretch reality (perhaps this time it won't hit me!), which leads to rewarding representatives randomly or simply those who are more cunning, i.e. those who either wait until the first slip-up or take photos, e.g. badly cropped, intentionally making it impossible to check. In both cases, not only ineffective, but even counter-effective is rewarded. And the larger the team of field forces, the scale of this phenomenon grows.
The quality of the photos themselves is also important in this model. You entrust the employees with maintaining the standard and taking a photo that can be analyzed. This can lead to a number of irregularities: you will start getting cropped, blurred or illegible photos from which you will not be able to extract the desired information.
The process of manual verification of photos' reports is also not the cheapest. Quick math:
Team coordinator x representatives x number of visits x photos…
It is enough to substitute the appropriate fixed and variable costs, and it will turn out that this form of verification makes it impossible to verify the results of merchandising activities of all representatives. Add to this the fact that the person in charge of verifying photo reports cannot be someone by chance – for this form of control to make sense, staff must be properly trained. Sometimes they will need to be replaced for longer or shorter periods… And these are just a handful of the expenses that will have to be incurred on this occasion. In the long run, it is simply expensive.
Automate!
Developments in technology, in particular the increased availability of artificial intelligence-supported solutions, have meant that repetitive tasks and duties of display auditing and reporting can be successfully entrusted to impartial algorithms. In the case of display and shelf auditing, solutions based on image recognition technology come to the rescue. This makes it possible to automate verification and much more.
First and foremost: by entrusting this task to artificial intelligence, you are assured that every photograph taken will be analysed. At the same time, you can supervise the work of even the most extensive field force teams, verifying all photo reports from visits to points.
Systems based on image recognition are usually equipped with mechanisms to support the correctness of the photo. In simple terms, the system helps the user to take an accurate photo that can be analyzed and used as a source of valuable information about your display.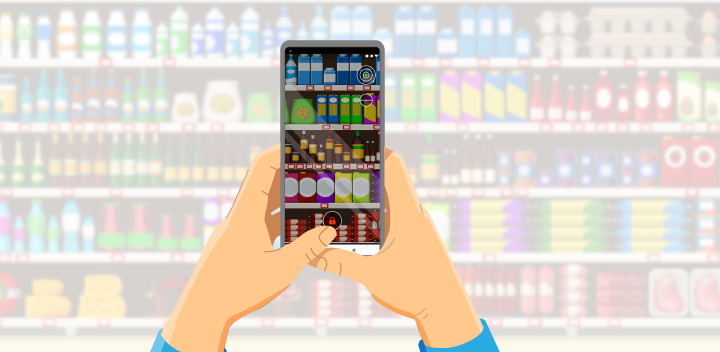 Finally, the question of costs. If you work in one of those organizations that have managed to run an effective, continuous and reliable process of manual photo verification, you have probably thought more than once that it would be better to spend this budget on automating the process and give people more ambitious tasks. If, on the other hand, you belong to a group of organisations where this process is not yet structured or is just emerging, you might think about changing your approach and purchasing pre-defined shelf reports. These will give you a reliable picture of the situation on a smaller scale, but also within an achievable budget (if you are interested in such a report, let us know by filling in the contact form below the text).
There are many more reasons
There are many more reasons to employ artificial intelligence to verify exposure standards, beyond the obvious ones you can read about above. One worth mentioning, for example, is that in addition to the automatic control of visits delivered, you have the opportunity to collect a huge amount of valuable data, such as information on the activities of competitors or reporting on branches in the individual networks. All this with the possibility of automatic data transfer in real time to your BI systems or analytical modules. If you want to be up to date with market trends, you will learn about them the fastest by analyzing the display and Shelf Recognition AI will help you speed up this process and react faster to dynamic market changes.